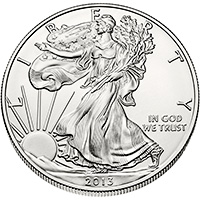 The American Silver Eagle has been one of the world's most popular silver bullion coins for the past 29 years. Investors and collectors alike buy Silver Eagles for their precious metal and numismatic value. Now with the 30th Anniversary of this beloved, American coin on its way, demand may very well be something never seen before. Year after year, more and more of these silver coins are pumped out by the United States Mint to keep up with the tremendous demand from investors and collectors. The demand by year goes as follows:
1986: 5,393,005
1987: 11,442,335
1988: 5,004,646
1989: 5,203,327
1990: 5,840,110
1991: 7,191,066
1992: 5,540,068
1993: 6,763,762
1994: 4,227,319
1995: 4,672,051
1996: 3,603,386
1997: 4,295,004
1998: 4,847,549
1999: 7,408,640
2000: 9,239,132
2001: 9,001,711
2002: 10,539,026
2003: 8,495,008
2004: 8,882,754
2005: 8,891,025
2006: 10,676,522
2007: 9,028,036
2008: 20,583,000
2009: 30,459,000
2010: 34,662,500
2011: 40,020,000
2012: 42,700,000
2013: 33,724,000
2014: 44,006,000
2015: To be determined but definitely more than 44.67 million
The general demand trend is positive with mintages drastically jumping in 2008. Demand has almost increased tenfold from its beginnings in 1986. The mintage numbers for 2015 have not yet been released however have already surpassed every other previous year. Demand for Silver Eagles got so high at certain points in the year that the United States Mint could not keep up and premiums for both retail and wholesale went through the roof.
Now with these concrete statistics, one can't help but wonder what the demand will be like in 2016. There are a few contributing factors that will affect next years business strike Silver Eagle sales. First, the price of silver is at extreme lows. This low price will allow investors and collectors to stockpile many more of these silver coins for far less money than they could in the previous year. Second, silver demand in general is higher than ever. These two simple factors could very well cause sales of these American minted, silver bullion coins to skyrocket. Naturally, when prices are low, more people buy a product. As long as silver bullion demand continues on its upward path, the low price of silver should greatly contribute to more Silver Eagle sales than ever. Silver Eagles are one of the most popular silver bullion products on the market and are considered to be the most beautiful silver bullion coin in existence. Increased popularity will follow along with this likely rise in demand. The design of the bullion coin is going to stay the same so there will be no surprises there. Although no exact number can be determined, one should not be surprised if sales of the 2016 Silver Eagle surpass the 50 million mark. Only time will tell the true numbers, but 2016 will definitely be a year of importance for the American Silver Eagle. Happy 30th Anniversary to the worlds favorite silver bullion coin! Let us know what you think about the demand to come!
*These are solely the opinions of Bullion Shark, LLC and are not intended to be used as investment advice. Please consult an investment professional before investing,*