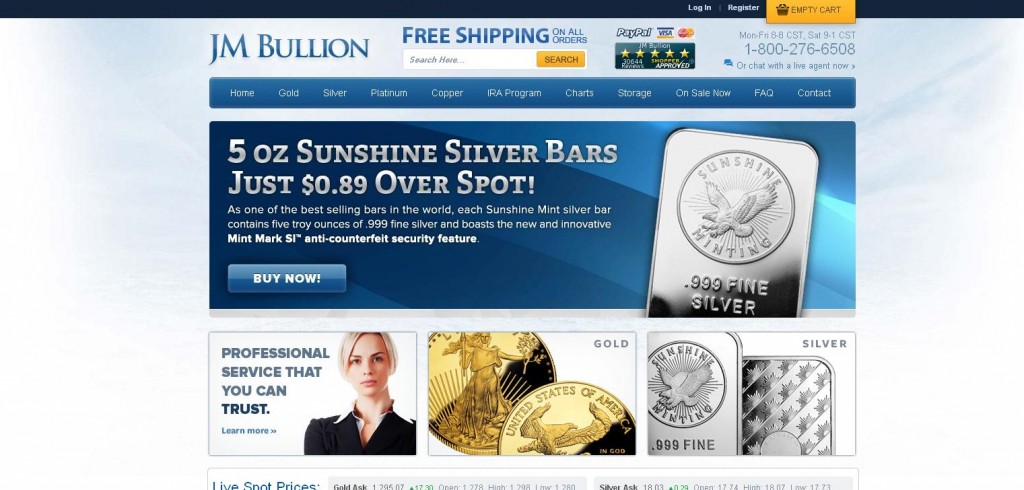 11700 Preston Road Ste 660153 Dallas, TX 75230
11700 Preston Road
Dallas
Texas
75230
US
JM Bullion, located in Dallas Texas, is one of the largest and most trusted online silver dealers in the country.  With a great website and a large selection of gold and silver products, it is easy to see why 30,000+ people gave them a favorable review on Shopper Approved.  Besides their coins and bullion, JM Bullion also does a good job at educating the buyer, especially when it comes to setting up a precious metal IRA.  Their unique products like the 1.25 ounce Silver Bison coin and their amazing weekly sales makes JM Bullion one of the site you must consider when investing in silver and gold.
Full Review
JM Bullion has done a great job decluttering their website. It is intuitive and easy to navigate. They have a large selection of gold bullion on their site including gold Eagles, Gold Buffaloes and large selection of gold bullion bars from PAMP Suisse.
Products
Their silver selection is more impressive with 50 different types of silver bullion bars and a large selection of both us and world bullion coins. They also have numerous types of silver rounds ranging from 1/10th ounce to 5 ounce varieties for you to choose from. Their selection of junk- or circulated silver, while not as large as say APMEX's, is sold in increments as low as $10 FV (Face Value) or by the bag – $100, $200, and $500 FV. They also carry numismatic silver coins.
In addition to gold and silver bullion and coins, JM Bullion also sells copper and platinum products.
One of the nice things about their site is a clear and concise description of the process of buying precious metals for a self directed IRA. They also mark all bullion that has been approved for inclusion in a gold or silver IRA, which saves a lot of time on research.
They do indicate whether a product us in stock and how long it will take to ship right on each product listing page.
Prices for Common Silver Bullion Products
As of publication time:
(1) 2014 1 Ounce Silver American Eagle Price: $22.39 for a single coin, $4.35 per ounce premium, 24% over spot
(1) 10 Ounce Generic Silver Bar: $189.30, $1.82 per ounce premium, 10.4% over spot
(1) $100 Face Value: $1465.76, $3.31 per ounce premium, 18.4% over spot
*NOTE – These are credit card prices, so reduce the premium and % accordingly when
comparing. Also, these are the prices for single items. Buying in volume can get you a significant price break.
Payment
JM Bullion accepts bank wires, Paypal, major credit cards, and paper checks. As with most dealers, it will cost you more to pay with a credit card than to pay with a bank wire or personal check. The difference between credit cards and paper checks/bank wires seems to be a bout 4%. The drawback of payment by check is that a check may take up to 10 days to clear. This is significant when precious metals prices are volatile. However, if you are investing for the long term, you may consider saving the 4% and pay with a check or bank wire. Order minimums and maximums are dictated by the payment type.
From the JM Bullion Site, "Order fulfillment times range from a day to a maximum of a month, in addition to any posted delays, although the majority of our orders ship out within two days of approved payment." JM Bullion currently only ships to addresses in the US.
Unique Products and Services
One of the really interesting products that JM Bullion sales is a 1 1/4 ounce silver Bison coin. this coin is produced by the Royal Canadian Mint exclusively for JM Bullion. The unique thing about this custom minted coin is that it also has a face value and ostensibly would be accepted as currency in Canada.
Also, every Monday, they list sales for the week – as long as supplies last – and some of the sales are absolutely killer. The week of Jan 19th, 2015, they were selling 1 ounce gold bars minted by Ohio Precious Metals (OPM) for only $14.99 per ounce over spot. That premium is about 1/4 of what is typical!
Conclusion
JM Bullion is very proud of their products ans service and they should be.  They have more than 30,000 transactions on Shopper Approved and have rated a 4.8/5 or 96%!  If you want gold bars other than PAMP, then you may need to go somewhere else or check back later.  If you are looking to buy silver or gold or invest in a precious metals IRA, JM Bullion is definitely worth checking out.
Great website.  Straight forward.  Good Selection.  Check clearing a little long and not a grea selection of different brands of gold bars or silver products.  Good reputation.
You must login to post comments