Silver coins are one of the most popular forms of silver bullion for collectors.  One of the most popular silver coins is the American Silver Eagle 1 ounce coin.  The United States mint sold some 44 million 1 ounce American Silver Eagles in 2014, selling out the entire available inventory.  In fact they had to suspend sales a number of times during the year because a lack of availability of the silver planchettes. There are other very sought after silver bullion coins like Canadian Maples, Austrian Philharmonics, and Chinese Pandas.
Coins are produced by government mints whereas rounds can be produced by private mints.  Coins differ from rounds in that they have a currency value as well as the silver value.  Although the silver value far outweighs the currency value, silver coins can be used in some jurisdictions as legal tender.  Silver bullion coins are known for their purity and their convenience.   Sizes range from 1/2 ounce to 5 ounces for the most common coins.
Silver Bullion Coin's Purity
.999 – .9999  Early silver (pre-1989) Pandas from China were as low as .900.   Silver coins do vary in fineness, but those that were minted as bullion rather than just coins with silver in them, have a high purity.  Some coins have sold as bullion by unscrupulous dealers which are not bullion at all.  Make sure you know the fineness of any coin you buy and that you understand the difference between bullion and "junk" silver.  Many coins that are .999 fine or above are suitable for inclusion in precious metals IRAs.
Coin Sizes
Silver bullion coins commonly come in sizes of 1/2 ounce, 1 ounce, 2 ounce, and 5 ounce.  Bullion coins weigh very close to the advertised mass because the amount of silver in the coins is paramount.  Most 1 ounce coins will have a diameter of 35mm – 40mm.
Premiums on Silver Bullion Coins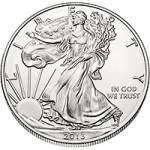 Bullion coins have a dollar or currency amount on them.  This is key.  These coins, aside from their silver value, can be used as currency because they are recognized by governments as such.  With the value of silver as high as it is right now, it is unlikely that you would want spend the coins for their face amount.  But if you are keen on the currency aspect, then look for coins that have the highest currency stamped on them.  American Silver Eagles are $1 coins where as 1 ounce Canadian Maple Leafs are $5 of currency.  That being said, you will notice that Eagles sell for a higher premium than Maple Leafs and that demonstrates that the coins are valued for their mass in silver first, and then for their marketability.
The price over the spot price of silver, or the premium is influenced by a number of market factors.  These factors include cost of production, shipping and marketing, supply and demand in the marketplace, inventory at the dealer, and other dealer variables like promotions and sales.  Whenever buying coins, look around at a few dealers before consummating the transaction.  The coins typically cost less when bought in volume.  A single Silver American Eagle might cost you $20.50 per coin but a box of 500 might only cost you $19.50 per coin from the same dealer.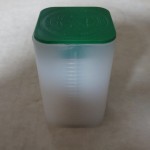 Most silver coins have a higher premium than privately minted silver rounds.  These premiums can be as high as 25% on a single coin and as low as 12% – 15% per ounce on a box of 500.  Fortunately, bullion coins like Eagles command a premium when selling back to a dealer.  Many of the large dealers like Texas Metals have been paying spot price + a small premium when buying the silver back, should you ever want to sell.
NOTE* – Silver coins from some years, while still technically bullion, can carry very high premiums because of scarcity.  They take on numismatic value for collectors in addition to their silver value that precious metals investors are looking for.  For example, a 2015 American Silver Eagle might cost you $20.00, but the same coin minted in 2005 might cost $23.00 and the same coin minted in 1996 might cost $45.00.
Bullion or Proof Coins?
To keep up with demand from collectors, mints have produced and marketed silver bullion coins in various forms.  Generally speaking, silver coins are either regular bullion coins or proof coins. (There are other variations like burnished and colorized, but we'll skip those for now.)  Bullion coins are either circulated, with varying degrees of wear, toning, or damage; or uncirculated, meaning that they unmarked, save a few normal bag marks.  Proof coins are made differently and designed to look different than the standard bullion coin.  Proof coins are made with a specially treated die designed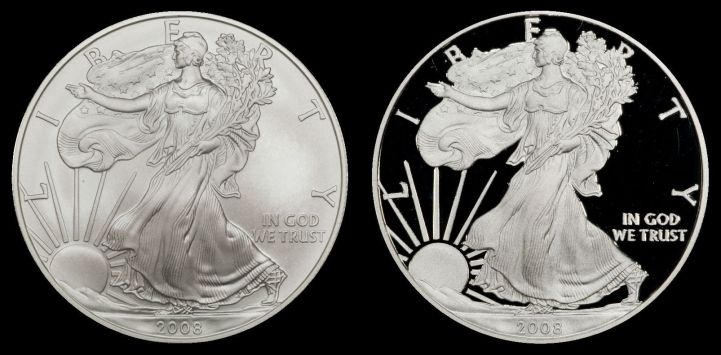 to provide extra fine details to the coins and are often struck multiple times to ensure very fine details.  The dies are also polished to provide the coins with a mirror finish on the background surfaces and a frosted finish on the raised surfaces.  The high contrast results in a designation called cameo or CAM and sometimes deep cameo or DCAM.  All of this extra work and the limited runs of proof coins increase their cost.
But they still have the same amount of silver as regular bullion coins.
If you want to collect silver coins, you have other options to consider besides circulated, uncirculated or proof.  Coins might also have mint marks designating where they were created, grading, dates, errors and more.
But if you are just investing in silver, regular bullion coins will probably be just fine.
Popular Brands and Mints
Most popular and marketable silver coins are the 1 ounce American Silver Eagles.  Silver Eagles have been minted since 1986.  In some years, like 1996, the US Treasury only produced a few million of the coins.  Their popularity has increased over the years and from 2009 to present the mint has produced over 30 million Eagles per year.  Other popular brands include
Canadian Silver Maple Leaf
Mexican Silver Libertad
Chinese Silver Panda
Australian Silver Kookaburra ( Perth Mint)
Australian Silver Kangaroo (Royal Australian Mint)
British Silver Britannia
Austrian Silver Vienna Philharmonic
Where to Buy Silver Coins
You can find silver bullion coins at all of the major dealers like Texas Metals, JM Bullion, Provident Metals, APMEX and BGASC.  Make sure you understand their inventory guarantees and shipping process.  Many of these coins are in high demand and shipping delays are not uncommon.  You can also find these coins on eBay and Proxibid.  Look for sellers with high positive feedback, both in number of transactions and percentage rating.  Always shop around to ensure that you are getting the best pricing.  if you would like to go to a local store, you can find 1400+ of them in our directory.
Where do you buy your silver bullion?  Comment below.