The term "bullion" typically means a bar or ingot made from a pure precious metal like gold, silver, or platinum.   Silver bullion is issued by both public and private mints.  Some private mints have well trusted brands and command a premium from investors.  Engelhard and Johnson-Matthey are two of these premium brands.  Other private mints also produce quality bullion products like OPM, Silvertowne, and A-Mark.   Bullion is valued for its mass and purity rather than face-amount.  Most fine silver bullion produced in the United States is of a .999 fineness, meaning that it is 99.9% pure silver.  Some bullion, especially world coins, have a range of purity.  Canadian Silver Maple Leafs, for
instance are guaranteed to be .9999 fine.    The 1997 – 2012 Britannia has a purity in the range of .958.   Early Chinese Panda coins had a purity of .900 – .925 while the later coins, after 1989 have a purity in the range of .999.   Before you invest in silver coins, make sure you know the fineness of your particular product.
Bullion comes in several forms: bar, round, and coin.  US bullion coins must be or have been legal tender in the United states to be called "coins", otherwise they are called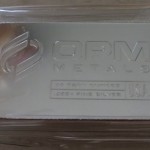 rounds.  So it is not just that Silver Eagles are produced by the United States Mint, but that they are stamped with "one dollar" that makes them bullion coins.  Bullion coins are also produced by other countries like Canada, Great Britain, Austria, and Australia.
Bullion bars, rounds and coins come in various sizes.  Silver Eagles are 1 ounce coins whereas America the Beautiful Coins are 5 ounces.  Silver bullion bars can range from fractions of an ounce to 1000 ounces.  The most popular bullion sizes are 1 ounce to 100 ounces.
The LBMA, London Bullion Market Association, which is an international trade association which includes many of the world's largest investors and central banks which hold bullion,  sets standards for quality.  The COMEX fills a similar role here in the United States for futures contracts involving precious metals and other commodities.  Bullion that qualifies as good-deliverable for COMEX or LBMA can be used in US based IRAs.  In order for silver to be a part of your IRA it must be at least of .999 fineness.
You can learn more about silver bars, their sizes, types, and popular brands here.  You can also learn about investing in silver rounds, silver bullion coins and "junk silver" coins by clicking on these links.