Silver Rounds are another form of silver bullion.  Many investors like to hold silver rounds along with silver bars and silver coins to diversify.  Rounds differ from coins in that they are not recognized by a government as currency.  Many types of silver rounds are produced by public and private mints around the world.  Some of these rounds are commemorative in nature.  Others are parts of an art series.  And others are promotional pieces.  And still others are produced at private mints to be bought and sold simply as low-cost bullion.  What ever the case, silver rounds can be a great way to hold physical silver bullion.
Silver Rounds – Purity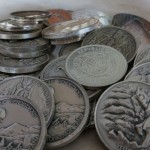 Silver rounds can vary in purity, although most will be .999 pure and above.  Having this fineness makes it easier for the rounds to be approved for IRA programs and makes them more marketable.  Some bullion rounds like those from Sunshine Minting are stamped .9999 fine.  Make sure you know the purity of the product before you buy.
The Size of Silver Rounds
Most silver rounds come in 1/2 oz, 1 oz, and 5 oz sizes, though you can find smaller.    By far the most popular size is the 1 ounce round.  Generally, these once silver rounds are between 35 and 40 mm in diameter and 3mm and 4 mm thick.  These coins are much smaller than they look in most of the marketing photos you will see of them.
Premiums on Silver Rounds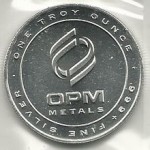 One of the attractive things about silver rounds as opposed to silver bullion coins is that the rounds usually have a lower premium than the coins.  A one ounce private mint round like an Ohio Precious Metals (OPM) generic can be found for $0.30 – $0.50 above spot at some of the more popular dealers.  Whereas Silver American Eagles might be $2.50 per ounce above spot price.  Of course these prices can fluctuate wildly, especially when there is a run on a particular brand, a mint shortage, or a run on physical silver in general.  All things being equal though, you will find generic silver rounds from private mints for less than the premium on government bullion coins.   You can find private mint brands that are accepted by LBMA for their quality and purity.
Types of Silver Rounds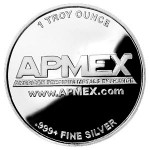 Silver rounds come in a few classifications; generic, replica, art series, and commemorative.  Generic rounds are simple, round slabs of silver with very little adornment or art.  This keeps their prices low.  You can see that the rounds from APMEX and OPM are very plain.  But that is ok because most people buy rounds for the silver they re made of rather than any other reason.   Replica rounds are those that copy famous coins like US American Eagles, Morgan Dollars, Buffalo Nickels, St. Gaudens designs,  etc.  Replica coins may or may not have dates on them.  The ones that do may have a date that recalls some of the historic nature of the coin that is being copied.  Honest replicas will designate that they are replicas or copies some where on the coin and will often have the private mint name or mark on the round as well.   Art series rounds like the Biblical Art series from the Israel mint or many of the series offered by the Franklin or Maco mints over the years are indeed silver, but you may pay a premium because of the added cost of the features and marketing of the rounds.   These rounds may vary in size, mass, and fineness. Some times these rounds are called Medallions by their marketers.  Commemorative silver rounds usually commemorate a specific event in history like the building of the Statue of Liberty, the American Revolution, VJ Day, or the Twin Towers attack.  These may vary in size and purity also.
Popular Brands and Mints
Some private mints will mint rounds for some of the large dealers as well as other organizations seeking to promote some event or business.  I personally have seen silver rounds from 100's of different sources and brands.  When investing, it is always wise to have and exit strategy.  When selling, it is easiest to get the best prices on known brands.  Keep in mind, replicas can be licensed and made by any mint, so look for names that you know and trust like Engelhard, Johnson Matthey, Sunshine Mint, OPM, APMEX, Provident, Texas Metals, SilverTowne, Scottsdale mint and the like.
 Where you can buy Silver Rounds
You can find silver bullion rounds at most of the large dealers like Kitco, APMEX, JM Bullion, and Provident Metals.  You can also find them at fine retailers like Gainesville Coins.  Alternately, you can buy them from mint/dealers like SilverTowne, Scottsdale Mint, and Northwest Territorial Mint.  Some of these mints can even design and create your own silver bullion rounds.  You can find bullion rounds like other silver and gold bullion products on eBay, iCollector, and Proxibid.  Make sure you do your due diligence before investing in silver at any of these places.   You can get more information on silver dealers in our directory and reviews.
Do you like owning rounds rather than bars or coins?  Tell us what you think below.