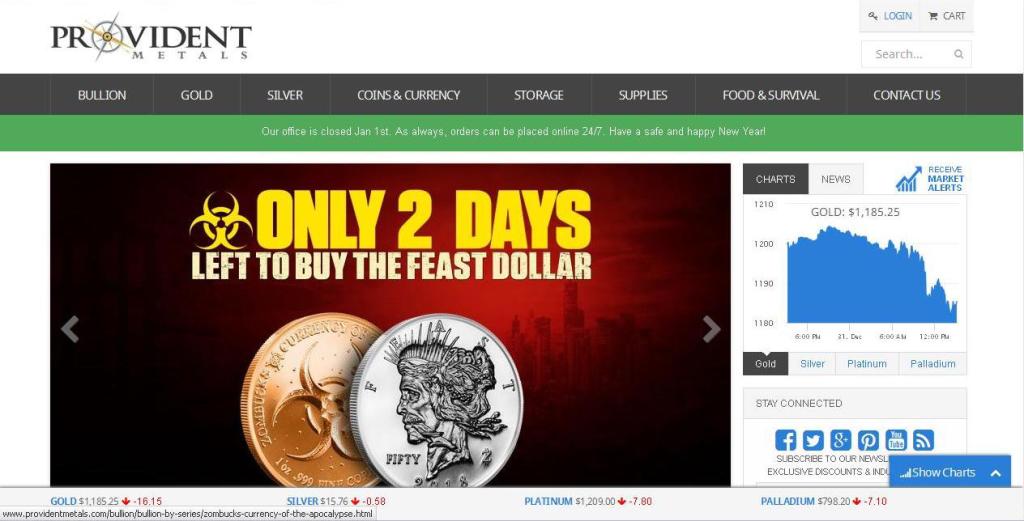 15850 Dallas Parkway Dallas, TX 75248
15850 Dallas Parkway
Dallas
Texas
75248
US
Provident Metals, based in Dallas TX, is one of the leading gold and silver dealers online.  They have a nice, clean, easy to navigate site, with a full line of products as well as some unique items.  All of the big retail dealers seem to have a hook and for Provident, their hook maybe that they are a little weird.  Don't get me wrong.  They carry all of the normal name brand products like Johnson Matthey, Engelhard, OPM, Perth, Sunshine, the US Mint and more.  But they also have their own extensive line of private mint bullion products like Zombucks, Starving Liberty Coins and a large number of copper rounds.  Their Provident Prospector silver rounds have some of the lowest premiums of any 1 oz silver bullion products.  Perhaps one of the more unusual product lines that they sell is their Survival and Preparedness food and gear.  (Update Feb. 2016 – Apparently, Provident no longer provides preparedness supplies other than precious metals and related supplies and storage services. ) I think it is a smart, secondary line of products which serves a growing market with a large cross-over.
Besides coins and bullion, Provident does sell certified coins, mint sets and other world and US commemorative coins.    They have a large selection of in-stock items although they also list a number of products which are out of stock.
Some of the products will include the premium over spot price in the description.  Provident's premiums seem to be right in line with the other large dealers like APMEX, BGASC, JM Bullion, and Amagi Metals.  I do like that you can see the credit card price for a product right in the product listing rather than having to go to the shopping cart to see the difference.  they too include customer reviews on their products as well as their "Buy Price", which makes it really convenient to shop.
Provident Metals also sells IRA approved products and has partnered with Elemetal to provide physical precious metals storage services.
What do you think of Provident Metals?
Provident is a Good Choice
I have purchased several times through Provident Metals.  Prices were decent and the shipping wasn't blazing fast, but it was decent.  I like their selection and some of their weird private mint stuff.  Overall, I have had a pretty good experience.
You must login to post comments