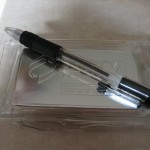 One of the most common forms of silver bullion is bar form.  Silver bars have the advantage of coming in numerous sizes and being easy to store.  Many bars are designed to stack on top of each other.    Silver bars also have the advantage of having little or no numismatic value so their price premium compared to coins is usually lower. 
Some bars from popular brands, or that have historical interest will receive a premium in price, however it is usually small compared to silver bullion coins.  You can find popular sizes of silver bars at many retailers and dealers as well as online from trustworthy sources.
Silver Bar Purity
Most silver bars are .999 fine, or are 99.9% silver.  Some Canadian Mint bars are stamped .9999 purity.  As a result, many silver bars are ideal for IRA accounts.
Sizes of Silver Bars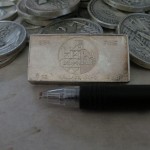 Silver bars come in multiple sizes.  Silver is very dense, so even "heavy bars" really don't take up a lot of space.  You can get an idea of the size of  a 3 ounce Hecla bar and a 10 ounce OPM bar compared to a pen in the photos on the page.  As you can see, these are very small.  The 10 ounce bar is shown in a plastic sleeve.  Most bars come in sheets of plastic like this, which fold easily and make it easy to protect and store your bullion.  The most popular sizes for silver bars are 1 oz, 5 oz, 10 oz, and 100 oz.  You can also find silver bars in kilogram size and 1000 oz size.  Silver bars also come in 1 – 50 gram sizes.  The smaller bars are really no more than chips and not worth the hassle nor the premium.  However, Valcambi makes a "chip bar" which is 100 1 gram bars that are connected and can be broken off.  This is a good choice if you think you will need to use gram silver for currency.
Premiums on Silver Bars
All things being equal, premiums on bars typically decrease as the size of the bar increases.  Hence, you can expect to pay a lower premium per ounce on a 100 ounce bar than on a 1 ounce bar.   Since all things are not equal, price premiums on silver bars also fluctuate based on market conditions, inventory availability, and brand perception.  Soon, SilverExchange.com will have a price engine that will scour the Internet and tell you in real time the price of bullion by size and brand.  Stay-tuned!
Poured vs Cast vs Minted Bars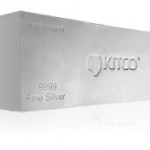 I have been asked whether one should buy poured, cast, or minted silver bars.  The answer depends on what you are doing with it.  Depending on where you buy silver in the supply chain, the more processing that is done to the bullion, the higher the starting price.  If you want pretty silver bars, designed to stack on top of one another, minted will do.  If you want, in some people's opinion, uglier silver loafs that are non uniform in weight and size, but lower in cost per ounce, go with poured.  *NOTE – Because so few poured bars make it to market compared to minted bars, there can sometimes be a collector's premium on poured bars or loafs.  Do your due diligence.  I invest in silver bullion first for the metal and last for collector or numismatic value.
Popular Silver Bar Brands
Silver bars are produced by government mints like the Royal Canadian Mint and the Perth Mint in Australia.  Government mints mostly produce rounds and coins though, so most of the bar silver is produced by private mints.  These mints include Scottsdale Mint, Ohio Precious Metals, and A-Mark.  Some mints are considered top tier and their products are usually in higher demand.  The good news is that their inventories on hand are usually larger.  These brands include Engelhard, Johnson-Matthey, Rand, Geiger, Heraeus, and Pamp-Suisse.   Brands like Engelhard and Johnson Matthey will typically command a premium over the other brands.
Where to Buy Silver Bars
There are thousands of places that you can purchase silver bars.  Check out our directory for silver dealers near you.  For those of you who like to buy online, you can see our reviews of some of the more popular silver bullion dealers in the web.  You can also buy directly from the mints mentioned above as well as from sellers on eBay.   eBay can be a great place to find inventory when it seems everyone is out, such as when the price of silver spikes.  Be careful though, not all sellers on eBay are trustworthy, though eBay tries to weed out the bad actors.  Also, while you can often find great deals on eBay, you can also end up paying a much higher premium than you would from one of the large dealers.   More on buying and selling silver on eBay later.
What types of silver bars do you buy and from where?