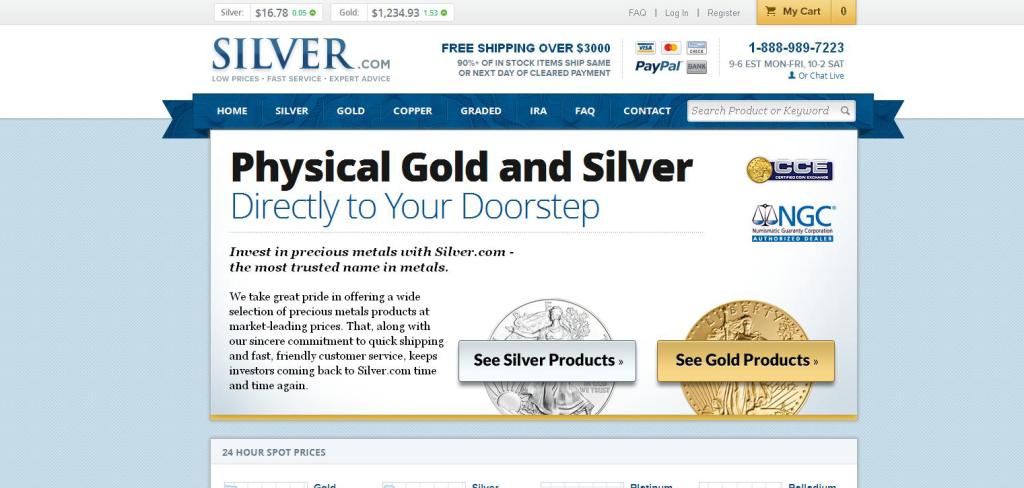 5930 Royal Lane Ste. E-151 Dallas, TX 75230
5930 Royal Lane
Dallas
Texas
75230
US
If JM Bullion's commitment to becoming the largest precious metals dealer in the industry was ever in doubt, Silver.com should lay those concerns to rest. In 2012, the company invested nearly a million dollars in acquiring the domain name Silver.com in order to create a successful parallel brand running along side their flagship JM Bullion brand.  Their ubiquitous ads all over the web should be another indicator of this commitment.  And with over 5500 shopper ratings averaging 4.8 out of 5, they seem to be off to a great start.
Full Review
"We take great pride in offering a wide selection of precious metals products at market-leading prices. That, along with our sincere commitment to quick shipping and fast, friendly customer service, keeps investors coming back to Silver.com time and time again." – Silver.com
That pretty much sums up their mission statement.
Silver.com has created a very simple shopping interface.   The large silver product inventory is well categorized.  One has the ability to add products to one's cart from the listing page, or they can drill deeper on the individual product page which has a extensive description of the product, including specifications.  One of the nice features is that the FAQ, Frequently asked questions list is visible on every product page and yet does not feel like clutter, not interrupt the shopping experience.  While Silver.com is the name of the brand, the website has a large inventory of gold products including coins, bars and rounds.
Products
The site carries name brand products from Perth, Pamp, Valcambi, Johnson Matthey, Sunshine, A-Mark and other well know private mints as well as American Silver Eagles, Canadian Maple Leaf coins, and a variety of other bullion products from government mints in Austria, Australia, China, Canada and the US.  In addition to the bullion products, Silver.com carries a selection of NGC graded coins for collectors.  Most of these are graded bullion coins like American Silver Eagles, but they also have a small selection of graded Peace Dollars.
Silver.com does have a page that explains precious metals IRAs.  There are a couple of small links that point to IRA eligible products.  And, if you are a browser, you will be able to see the IRA Eligible designation on appropriate products, though the text is a bit small.
The site indicates that everything listed on it is in stock.  I am a little skeptical.  Either one doesn't see their full product line and they have an amazing staff and eCommerce system that automatically adds and removes products as inventory indicates, or the "In stock" button is stuck in the on position.  It is unusual to see an online dealer, especially a busy, manage their inventory so well, that they don't show any out of stock items, even for just a little while.  I would love some more feed back on this.
Prices
Silver.com has great prices, especially for individual bullion coins like American Eagles and Maple Leaf coins.  However, their price breaks are pretty large.  For instance 2014 American Eagles have a price break on the premium of $0.30, but only after you buy 500 coins.  Credit cards will cost up a bit more than cash, check, or wire.
As of publication time: (1) 2014 1 Ounce Silver American Eagle Price: $20.46. for a single coin, $3.59 per ounce premium, 21% over spot.   (1) 10 Ounce Generic Silver Bar (Sunshine Mint): $183.77, $1.60 per ounce premium, 9.5% over spot.   (1) $100 Face Value 90% silver circulated US coins (mixed bag): $1395.54, $2.74 per ounce premium, 16.3% over spot.   *NOTE – These are credit card prices, so reduce the premium and % accordingly when comparing.  Also, these are the prices for single items. Buying in volume can get you a significant price break.
Payment
Silver.com accepts checks, bank wires, credit cards and PayPal.  Expect to pay about 4% more when using credit cards, which is pretty typical. They accept Paypal, which has the same incremental markup as credit card payments.  The company indicates that 90% of orders are shipped with in a business day of payment clearing.  Make sure you look at the fine print carefully, as with all other dealers, so that you fully understand about price locks, and payment minimums and maximums.
Unique Products and Services
Silver.com really focuses on silver, even though they have gold products.  One of the things that is unique about them is that they do not buy or source silver from the public.  This makes the composition of their inventory pretty homogenous from month to month.  That means that buyers will get better prices because silver.com is not spending time and money marketing products that don't sell and that silver.com doesn't have to make up losses in weak demand products by jacking up the prices in higher demand products.  Even still, they have a very large selection of silver products and numerous brands.  They have half a dozen 100 oz. bar brands whereas many dealers only have a few in stock.
Conclusion
If you want to buy silver, Silver.com is a great place to start.  They have low premiums and a broad variety of products.  They can also help you with precious metals IRAs.  Because they are a JM Bullion brand, you can be sure that they are not a fly-by-night outfit and invest in customer service and inventory management controls to ensure that buyers have a great experience.
Tell us what you think.
Silver.com, owned by JM Bullion seems to be uber-focused on being the premier dealer in the silver industry.  This focus has helped them keep prices down and customer service levels high.  They are worth a look
You must login to post comments