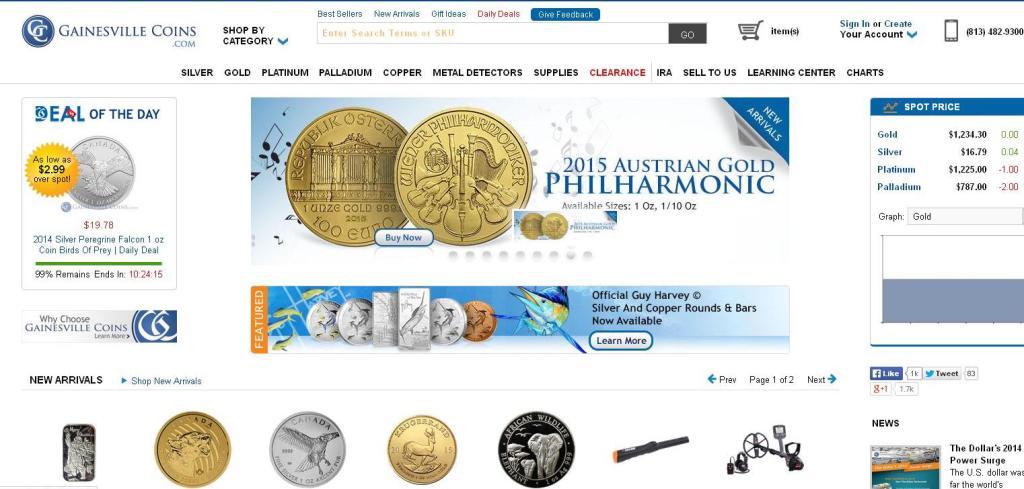 17860 N. US Hwy 41 Lutz, FL 33549
18000 Old US Highway 41
Lutz
Florida
33549
US
This review of Gainesville Coins is very interesting to me.  They are one of the largest bullion dealers in the country and have a loyal following, however, they also have some serious detractors.  There are some really good things about them like their inventory stocks, product mix, and unique features that really make them stand out like retailing metal detectors.  There are some real negatives though.  Some are minor annoyances, others are yellow flags for certain.  Please check out the review and leave your comments below.
*Strangely enough, Gainesville Coins is not located in Gainesville, but in Lutz, FL, 120 miles away from the University of Florida college town.
Quote from the About Us
"Our company was founded on the vision of offering every customer the opportunity to buy U.S. and World Silver and Gold Coins at prices never before possible. Our world class team of professional numismatists and outstanding support team of customer service representatives will provide you with a fast, courteous, and professional experience."
Services
Gainesville Coins is a full service gold and silver dealer with an emphasis on coins and rounds.  they carry the standard products like 40% and 90% circulated silver coins, bar, round, and coin bullion from the major brands like Johnson Matthey, Engelhard, Sunshine, Heraeus, and Trident.  They of course carry American Silver Eagles, Canadian Maple Leaf Coins, Austrian Philharmonics, and Australian Perth Mint bullion as well as bullion from a number of other government mints around the world.  Besides gold and silver, Gainesville Coins sells platinum, palladium and copper bullion.  In addition to precious metals, GC also sells supplies.  One can find a number of clearance and sales items from their main website navigation bar as well.
Gainesville coins does support Precious metals IRA programs with their IRA eligible products clearly marked no both the category and product pages as well as devoting a special section to IRAs.  The information in the section gives one a great head start understanding how to go about establishing a silver or gold IRA.
Some of the things that makes GC unique are the education section, the way they buy coins and bullion, and that they sell metal detectors!  I really like the education section with the infographics that help make the buying of coins and precious metals less intimidating.  Gainesville Coins also buys coins and bullion from the public, however they do it with no minimums.  Many other dealers (not cash for gold types) will buy your silver or gold but require a large quantity.  GC has no minimums for buying coins.  This is a big plus, however the negative is that it results in lower prices than you might find at the other dealers who require a minimum.  Instead of a $1.25 premium on your American Silver Eagles, you might only get spot price from GC.
Another one of the things that makes them unique is that they also sell metal detectors!  And why not?  Their showroom is in Florida  and metal detectors are a perfect fit for the location and demographics.  Besides, who wouldn't rather find treasure than buy it?
eCommerce and the Website
I have not made a phone call to a precious metals dealer in years.  I either buy in person, when it is convenient, or I buy online.  Gainesville Coins, like most large bullion dealers, has an eCommerce website so you can shop and purchase 24 hours per day, 7 days per week.  And while GC has a very extensive website, compared to other sites/dealers we have reviewed, it is a bit clunky.
First the good things: GC clearly identifies IRA items in both the category pages and the product pages as well as the main navigation.   I like that on the category pages you can change the viewing mode from list style to grid style.  I also like the filters on the left side of the page which allow one to get really granular when searching for specific products.  I think that the education section with the videos and posts is very helpful.  I like the ability to set price alerts.
I like the idea of daily deals and clearance sections.  I like the graphical progress bar that show you the amount of relative inventory left.  The site would be better, IMO, if they had the same feature on each product page.
Overall though, I feel like the site is too cluttered.  Some navigation items or widgets are on the right hand side of the page on one page then they move to the left on another.  On one page, contact info is at eye level in the right hand column, on another, one must hunt for it.   Without a drop down menu, one must make extra clicks and wait for additional pages to laod that might not be necessary.  That may be part of their merchandising strategy, but in my experience, having as few pages to wade through as possible makes for a better buying experience.  Also, the site doesn't appear to have a responsive design, so your viewing experience may depend on your device, browser and operating system.  The site did recognize my Android phone and give me a mobile version, but it did not look very good and some elements were off screen or frame.
Additionally, when clicking on a clearance item that has been sold out, I get sent to a 404 page.  The "Comparison Tool" sounds great, but when I tried to click on the link, I was redirected back to the about us page.  Some of these are technical issues, but they affect how someone perceives a business.  and a large dealer like this really should have a shopping experience that matches the reputation they tout.
Prices and Premiums
GC touts their low prices and for some items, especially in their Deals of the Day or Clearance sections, they have very low premiums.  For instance at publication time they are selling random 10 ounce bars for $0.45 per ounce over spot.  That is an extremely low premium.  For credit card orders, be prepared to pay about about 3.2% more on your order than if you used bank wire.  Here is how they stack up price-wise on some of the most commonly sold products across the industry:
As of publication time: (1) 2014 1 Ounce Silver American Eagle Price: $21.33. for a single coin, $3.91 per ounce premium, 22.4% over spot.   (1) 10 Ounce Generic Silver Bar : $186.48, $1.23 per ounce premium, 7.1% over spot.   (1) $100 Face Value 90% silver circulated US coins (mixed bag): $1417.47, $2.40 per ounce premium, 13.8% over spot.   *NOTE – These are credit card prices, so reduce the premium and % accordingly when comparing.  Also, these are the prices for single items. Buying in volume may get you a significant price break.     On the items we priced on their website, there were no volume discounts and shipping and insurance was always charged.  So the prices are lower than typical, however since they add shipping/handling fees to the order, you may have similar pricing with GC's competitors.

Payment and Shipping
Gainesville Coin only accpets major creidt cards and bank wires, although they do accept cash in their showroom.  No checks.  Again, they charge for shipping and insurance in addition to your product price and ship via USPS or UPS.    Make sure you check out their return and market loss policy.
Bottom Line
There's a lot to like and some not to like about Gainesville Coins. I have not personally bought from them, but in talking to people and reading lots of reviews, I can say this for a certainty:  People seem to either love them or hate them.  There doesn't seem to be much middle ground.  If you look at their BBB rating, it indicates an A+, however, that only indicates that Gainesville Coins has addressed the complaints.  The fact that they have had so many complaints over the past couple of years is a little bit concerning.    Perhaps that is just a function of volume.  Prices seem pretty good, but keep your eyes wide open and read all of the "fine print", which is good advice for any business transaction.
What has your experience with Gainesville Coins been?
Certifications
ANA, CCE, PCGS, NGC
Gainesville Coins is one of the largest bullion dealers in the US.  People I have talked to and reviews that I have read leave me to believe that people wither love them or hate them.  Perhaps that is unfair and the people who think that they are ok – fine just don't share their feelings about them.  In any case, the review is a composite of my research.  please add yours to give a more complete picture.
You must login to post comments